Chris Olson has written and spoken on a wide range of library marketing topics. Recognized as an authority on the unique marketing issues surrounding library and information services, Chris has been speaking to groups and writing articles since 1984. Her speaking services can be engaged for a modest fee, and she is available to contribute to publications as time permits. Inquiries should be directed to Chris Olson.

Chris is also available to lead seminars and workshops focused on information service marketing and communications strategies.

Additional articles written by Chris Olson on library marketing topics can be perused on the pages of Marketing Treasures.

Recent Publications

"What's In It for Them? Communicating the Value of Information Services"

Information Outlook
November 2002. pp. 18-23.


Chris addresses the qualitative aspects of value and discusses the daily opportunities information professionals have to communicate and reinforce value perceptions within targeted markets.
Download the PDF file now (90 KB).

Seven Essential Components of a Successful Rollout

Intranet Professional
May, 2002 Cover Article
Whether revamping an existing site or bringing a new intranet online, it is important that plans include the resources and time needed for a promotion rollout. In this article Chris briefly covers 7 components of an Intranet launch plan that will put a rollout on the fast track to success.
Download the PDF file now (91 KB).

"Overworked? Understaffed? Don't Stop Marketing!"

Information Outlook
March 1997. pp. 20-23.
Even if your library and information service is busy you can not afford to ignore your marketing plan. This article explains why and provides ideas for successfully using marketing tools to help reduce the stress of an overburdened staff.
Download the PDF file now (93 KB).

"Test Your Library's Marketing IQ."

Medical Reference Services Quarterly
Fall 1993 pp. 75-83
Image is everything in today's world of intense visual communications. This article leads the reader through a series of questions aimed at identifying weaknesses in a library's current visibility program and makes suggestions for improvement. (Note: Although this article was written in 1993, years before library branding was on the radar-screen, there are plenty of points which still apply today. Chris suggests replacing the references to paper-based packaging with electronic-based packaging -- pdf files, web sites, e-letters-- well, you get the idea.)
Download the PDF file now (107 KB).

"Marketing Considerations for the Business Library."

A chapter in The Basic Business Library: Core Resources, 2nd edition,
Edited by Bernard S. Schlessinger, pp. 186-197. Published by Oryx Press, 1989.

While this article addresses the marketing needs of business libraries, the issues it raises can be applied to any special library. The article begins by positioning libraries as businesses, setting the stage for an insightful review of marketing management tools that librarians can not afford to ignore. This is a good overview article containing major library marketing points.
Download the PDF file now (700 KB).

Recent Presentations


User Tests: One Intranet Team's Experience

Internet Librarian 2000 Conference
Monterey, California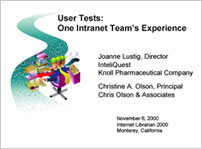 Chris and her production team worked side-by-side with the Intranet development team of the Knoll Pharmaceutical company. This presentation reviews the different levels of usability tests Chris and Joanne Lustig, Team Leader of the company-wide Intranet project, performed during the intranet's development. Download the PDF file now (2.8 MB). Chris and her team are available to assist clients with their web site testing projects.
Beyond the Smoke and Mirrors: Developing and Maintaining A Corporate Image

Association of Independent Information Professionals Conference
April 8, 2000, Washington, DC
Chris discussed the components of a communications strategy aimed at establishing and nurturing a corporate image for any size organization. Her presentation is sprinkled with examples and offers insights into image management tactics. Chris' presentation is available in two parts: slides, Part 1 (888 KB) and notes, Part 2 (782 KB). Due to the nature of the material included in the slides, requests for printing the PDF file are denied. Click here for the PBIRG logo movie (3.2 MB) mentioned during the presentation.

Designing and Promoting Web Sites

Computers in Libraries Conference
March 17, 2000, Washington, DC
Chris introduces the virtual community as a marketing tool which can enhance the longevity of library promotion activities. The Powerpoint sides are available. The PDF file includes an overview of the virtual community, Library Marketing Village, www.communityzero.com/librarymarketing, built by Chris for librarians interested in promoting their products and services. Download the PDF file now (807 KB).

Intranet Marketing Camp

Intranets' 99, April 1999
San Francisco, CA
Chris provides tips for promoting an intranet, including a review of Chris' successfull rollout of the Knowledge Center intranet for the Knoll Pharmaceutical Company. Download the PDF file now (465 KB).