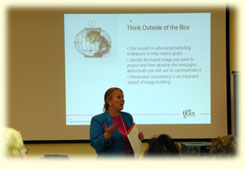 When Chris Olson & Associates was established in 1984, few librarians recognized marketing to be more than promotion activities, and fewer still understood how to incorporate the full complement of marketing tools into their everyday information management activities. To help her colleagues identify and integrate marketing strategies into their library plans, Chris Olson developed a series of seminars on different marketing topics and offered them to groups of librarians located throughout North America. Her early seminar topics covered fundamental marketing concepts, survey research techniques, and design concepts aimed at helping seminar attendees to understand and initiate successful marketing activities in their own libraries.

Today Chris continues to develop and lead seminars, workshops and presentations at conferences and private group meetings. Although the topics have changed with the times (library competitors have gone from service vendors to the internet!), the objective of sharing insights and personal experience and knowledge on a particular aspect of marketing is still a goal.

Engaging Chris Olson for a workshop or presentation is easy. Outline your requirements in an email message and send it to the attention of Chris Olson at speaking@ChrisOlson.com or discuss your meeting needs with Chris Olson by phoning 410-647-6708. Meeting coordinators should allow a 4-5 month lead time. In addition to being reimbursed for out-of-pocket expenses, speaking fees for Chris Olson take into account the amount of time required away from the office and the preparation time of tailored materials, if requested.

Planning Library Promotion Campaigns: Beyond Pretty Pictures and Prayers

This workshop provides a hands-on learning opportunity. It requires a minimum of 4 hours and registration is limited to 30 people. The topic coverage can be expanded into a 6 hour session and tailored to specific audiences.
Descriptiion: .
Learn what it takes to create successful library promotion campaigns as Chris leads workshop attendees through the process of crafting a campaign. Afterwards attendees participate in a team to outline a promotion campaign for a common library promotion scenario. Teams are coached by the consultant and marketing-savvy colleagues, with everyone sharing their campaign outlines at the end of the workshop. Attendees take home a promotion campaign outline and usage notes; lists of ideas and resources; and the promotion campaigns developed by the teams.

Newsletter Production:
Getting the Word Out

This is a 4 hour workshop with content suitable for the novice and seasoned newsletter editors alike. Because Chris publishes her own newsletter,
Marketing Treasures, the information provided during the session is practical and current. Attendance is limited to 75 people.

Description:
Newsletters are important communications tools for information services seeking to reinforce their brand image and increase value perceptions. Developed for information professionals responsible for producing the library newsletter, who want to convert paper to electronic news, or who are exploring newsletters for web site content, this four hour workshop is crammed with instruction, tips, and practical information that will jumpstart newsletter production. Led by experienced newsletter publisher and marketing consultant, Chris Olson, the course reviews planning processes, design and writing considerations, and production options for both paper and electronic newsletters. From administrative issues and editorial calendars, to content and layout templates, to pdf files, e-newsletters, and news feeds, this workshop is an information-packed session for novice and seasoned newsletter editors alike.

Branding 101: What it Takes to Build a Library Brand

This 4 hour workshop lays the groundwork for understanding the role branding plays in library marketing programs. Attendance is limited to 75 people. This workshop is complimented by the Branding Master Class. Together the workshops are excellent learning opportunities for marketing and communication teams looking to tune-up their knowledge.

Description:
A successful brand is a dynamic mix of customer perceptions and memories, shaped by a 360 degree image strategy, diligently maintained with focused communications, and finetuned to take advantage of opportunities and react to marketplace conditions. This four hour course explores the multiple facets of a brand, the role of branding in a marketing program, the steps required to establish a brand, and how managers of library and information services can apply branding tools to communicate promises and establish brand loyalty for their services and products. The topics covered in this course lay the groundwork for the complex and advanced branding concepts tpresented in the Branding Master Class.

Branding Master Class: Fine Tuning Information Service Brands

Description:
Brand-building strategies which center around colors, logos, names, and taglines skim only the surface of branding. These visual characteristics merely represent the brand. The actual brand is how customers think and feel about what a library/information service does and what it stands for. Crafting strategies to impact the intangible aspects of a brand and its relationship with customers is the focus of this master class in branding. The presentation concentrates on advanced branding concepts aimed at adding depth to information service brand management strategies.

Brand portfolios, revitalization, and brand expansion are among the topics discussed in this 4 hour workshop. The presentation also addresses specific information service brand challenges such as inheriting a negative brand, living the brand promise, co-branding pitfalls, and thriving in a brand-cluttered environment. The topics covered in this seminar build on the basic branding concepts presented in the Branding 101 workshop.

Demystifying the Design Process: Working with Designers on Electronic Projects

This is a 1 hour presentation- perfect for dinner meetings, staff gatherings, or as a background for a marketing team.

Description:
Whether you engage an in-house graphic arts department or an outside design studio, it's to your advantage to understand the design process. Creating artwork for an electronic project, be it a web site, newsletter, or template, follows a set of universal design concepts and processes. The speaker will walk through the electronic design process, providing a behind-the-scenes perspective on design activities and sharing insights along the way. Topics will include design terminology and styles, decision points and ramifications, timeframes and deliverables, and tips on communicating with designers.

Shake Up the Marketing Toybox: It's Time to Focus on Your Virtual Brand Identity

This is a popular and fun presentation that requires approximately 1.5 hours.

Description:
The more information products are delivered on the desktop, the more intangible and "faceless" information services can become. A dynamic branding strategy can successfully overcome this challenge with consistent and coordinated brand identity activities. Smart strategists monitor their information service brand in the virtual world of e-mail, intranets, webinars, web sites, and blogs. They realize that when someone views a web page or reads a PDF file, an opportunity exists to give a person the visual hook for remembering the information service brand. Discover new branding games in the marketing toy box as Chris Olson provides insights into managing and maximizing a virtual brand identity